Seasons Round Exchange: Sent
So here is what I sent to my partner Anna and her family on this edition of the Seasons Round. The Snow Queen was inspired on a much more elaborate standing puppet I saw at the crafts fair at TWS. It was great fun working on it but also quite challenging as sewing isn't exactly my strong point, let alone sewing by hand! I'm very pleased with the result and still have material left to (maybe) make the king for our nature table after the holidays. The origami ornament is called Morning Dew. The pattern for this model is on the book "Kusudama Ball Origami" by Makoto Yamaguchi and is made of  60 pieces of folded paper. Making these origami balls have been a passion of mine for over ten years now. Although they are not originally meant to be Christmas tree ornaments they lend themselves beautifully to that purpose. The last handmade item that I sent Anna was the Christmas card I made with Marta using a paper underlay and crayons. Additionally in the package I included a wooden card holder and a beautiful postcard of Christmas lights. To see what Anna sent us or for more information on Seasons Round Exchange please check my previous post. You can also find out more about Seasons Round Exchange on their website.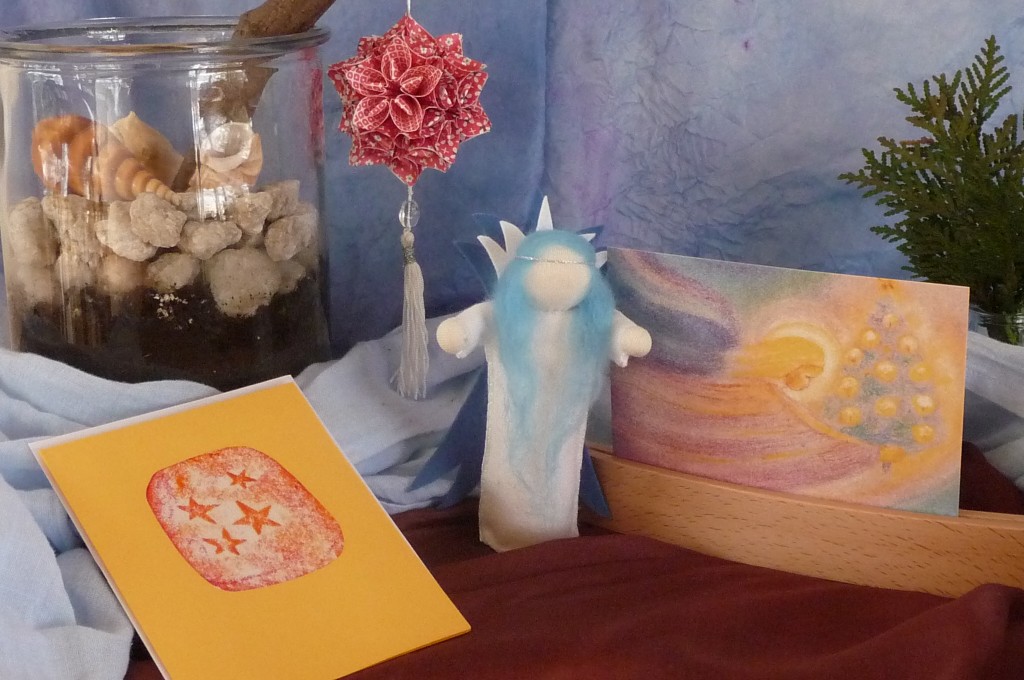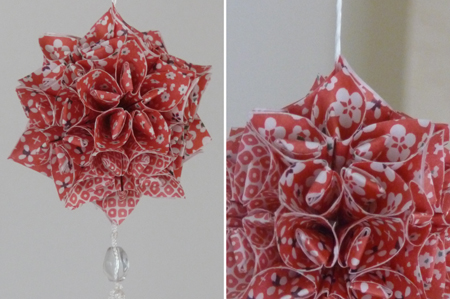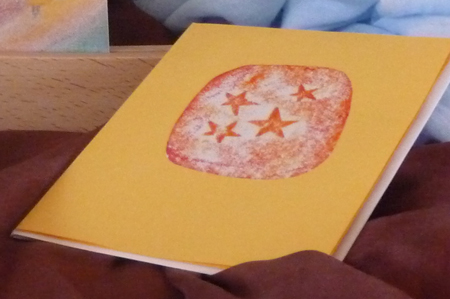 Aqui está o que eu mandei para a minha parceira Ana e sua família nessa edição do Seasons Round. A Rainha da Neve foi inspirada numa boneca que eu vi na feira de Natal da TWS. Eu curti muito fazer a boneca mas foi também um desafio uma vez que costurar não é o meu forte, muito menos costurar a mão. Eu gostei muito do resultado e ainda tenho material suficiente para fazer (talvez) o Rei da Neve depois do Natal. O enfeite de origami chama-se Morning Dew e o modelo está no livro "Kusudama Ball Origami" de Makoto Yamaguchi e é feito de 60 pedaços de papel dobrado. Fazer essas bolas tem sido uma paixão minha há mais de dez anos. O último ítem feito a mão que eu mandei par a Anna foi o cartão de Natal que eu fiz com a Marta usando uma matriz de papel e lápis de cêra. Além das coisas que eu fiz eu ainda incluí um porta cartão e um cartão postal natalino. Para ver o que a Anna mandou para a gente ou mais informações sobre o Seasons Round Exchange veja a minha entrada anterior.