Pomatomus socks or my big Summer project
I had bigger ambitions for the Summer, but I'm ecstatic that I managed to start and finish the Pomatomus socks that I so wanted. It was over a year ago when I fell in love with this pattern so this project was long overdue. I was able to take it along to all of our Summer trips and work on it slowly but steadily. It is not a difficult pattern but requires a lot of attention so there were lots of ripping involved due to being constantly distracted by (mostly) my children's activities. Oh, and did you notice? I ran out of yarn again! I hope this is not a curse that befell on me. I used two skeins of the delicious Shibui sock and one skein is usually more than enough for one sock so if you're planning to knit this one I suggest you shorten the leg (do two repeats of the pattern instead of three as instructed) or buy an extra skein.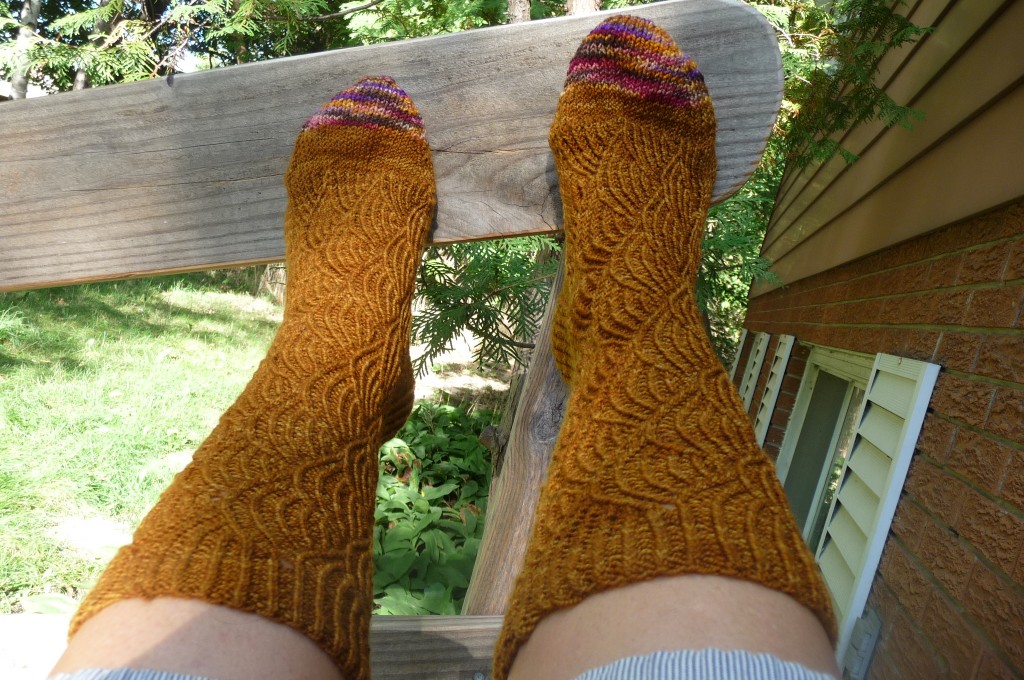 Eu até tinha planos mais ambiciosos para o verão, mas estou em êxtase porque consegui começar e acabar a meia Pomatomus que eu tanto queria. Foi há mais de um ano que eu me apaixonei por essa receita, ou seja já estava mais do que na hora de me conceder esse prazer. Por ser um projeto pequeno eu consegui levarcomigo para todas as viagens que fizemos no verão e trabalhei devagar mas constantemente. Não é uma receita difícil mas requer muita atenção o que quer tiver que tive que defazer vários pedaços por causa das distrações causadas (principalmente) pelas minhas fofas. Ah, você notou? O fio acabou de novo! Espero que não tenha sido uma praga que caiu sobre mim. Eu usei dois novelos do maravilhoso Shibui sock e um novelo geralmente é mais do que suficiente para uma meia. Se você tiver planos de fazer essa meia eu sugiro que você encurte a perna (repetir o padrão apenas duas vezes e não três como recomendado) ou compre um novelo extra.
SaveSave