First, thank you so much for all the wonderful comments you left about my origami. It is really encouraging that they spark so much enthusiasm. From now until the Advent fair I will be sharing pictures of new models as they come along.
Last week I started working on Christmas presents for the girls. For a while I have been wanting to make a set of peg dolls to go along with some doll furniture we made a while back (with the fallen Maple tree). We withheld giving the furniture to the children at the time because the blocks were actually more appropriate for their age. But now they are showing all signs that they will enjoy a doll house. But what I'm enjoying the most right now is that I can sit at the table and work while Marta and Liliana either join me, or go off doing their own thing without interrupting me every five minutes. They start by "helping" me with the work but they soon transform it into their own play. Most times it is cutting up pieces of felt to cook in their pans and pots, but the other day Marta set up the tea set all by herself and invited Liliana and I for some pizza with toast!  Liliana amuses herself by wrapping the naked peg dolls in either pieces of felt or silk cloths. Yes, work is slow but it happens and the three of us are managing to create such a lovely atmosphere of work and play. I can't tell how much I waited for this stage in their development!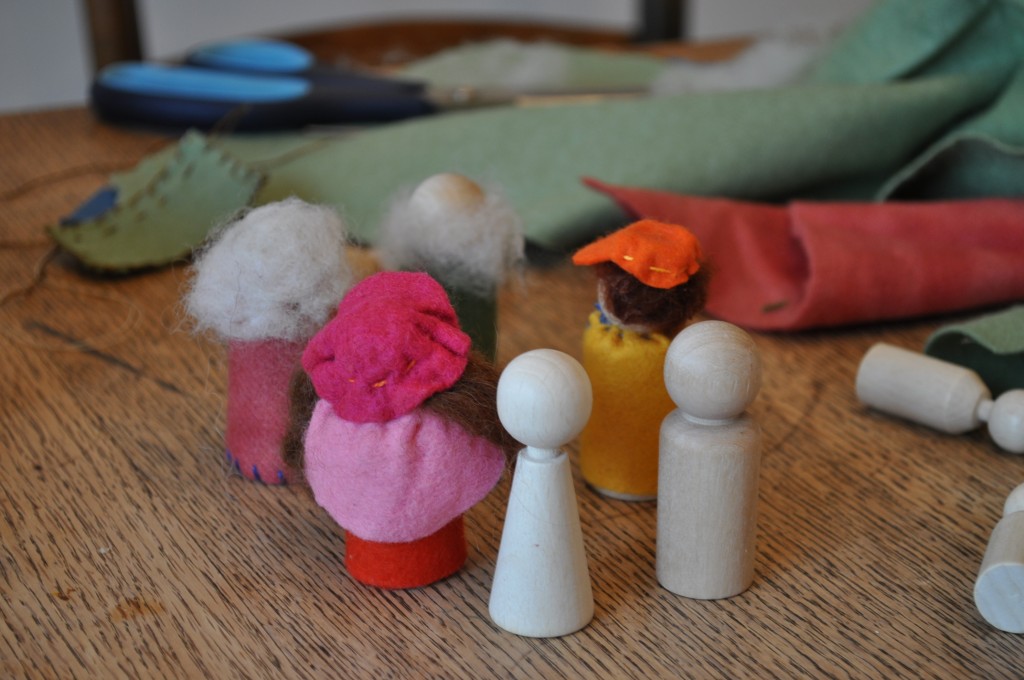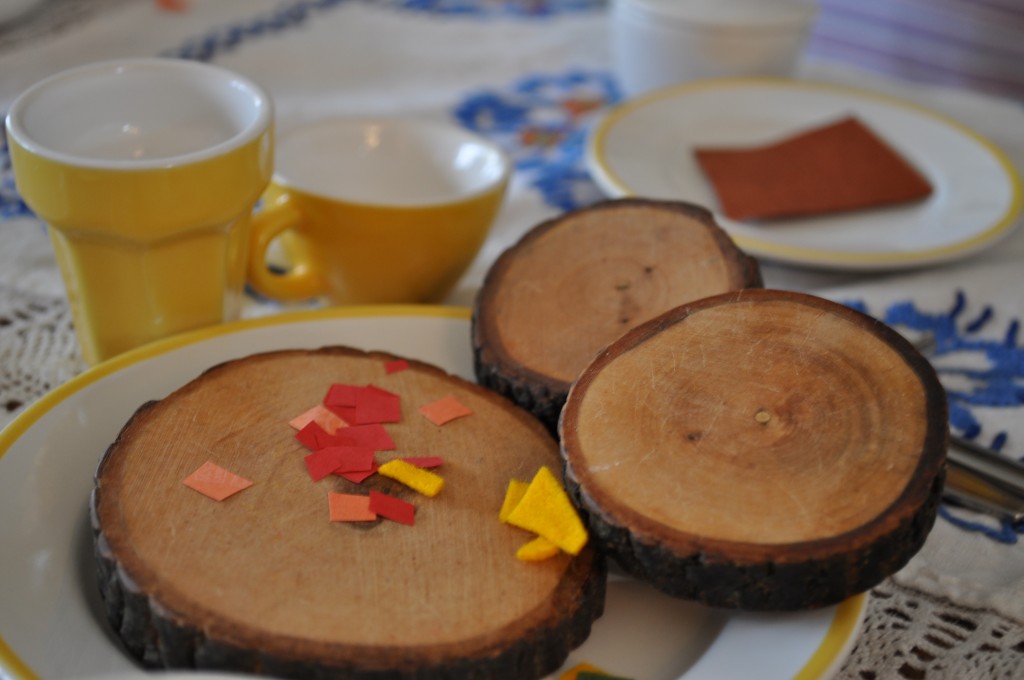 Primeiro, muito obrigada por todos od comentários a respeito dos origmis. É um super incentivo saber que eles geramtanto entusiasmo. De agora até a feira de natal eu vou compartilhar fotos dos modelos a medida em que vão ficandoprontos.
Semana passada eu comecei a trabalhar nos presentes de Natal para as meninas. Há algum tempo eu vinha querendofazer um conjunto de bonecos de madeira para acompanhar os móveis de boneca que fizemos com a madeira da árvorede maple que foi derrubada. Na época me pareceu mais apropriado dar somente os blocos demadeira , mas agora elas já mostram sinai de que vão curtir uma casa de bonecas.  Mas o que eu estou mais curtindo nesse momento é que euposso sentar apara trabalhar enquanto a Marta e a Liliana ou se juntam a mim ou vão brincar sozinhas sem me interromper a cada cinco minutos. Elas começam me "ajudando" com o trabalho, mas logo tranformam a tarefa em suas brincadeiras. As vezes elas começam a cortar pedacinhos de feltro e esses viram comida para ser cozinhad em suas panelinhas. No outro dia a Marta botou a mesa de chá sozinha e convidou a mim e a Liliana para comer pizza com torrada! Liliana se diverte enrolando os bonequinhos de madeira, ainda pelados, em pedaços de feltro ou seda. Sim, o trabalho é lento, mas acontece. E nós três conseguimos criar uma deliciosa atmosfera de trabalho e brincadeira. Nem sei dizer o quanto esperei por esse estágio no desenvolvimento delas!