Getting ready for Christmas
The past weekend was a busy one. Lots of events take place at this time of the year, fairs, parties or just friends getting together. On Saturday Marta had her kindergarten Advent Spiral and on Sunday, the first Sunday of Advent, we had a lovely celebration at a friend's place. Amongst all the events we managed to get our house in the mood to welcome the new Season. Our nature table is now hosting the stable and the animals that are calmly waiting for Joseph, Mary and the Donkey to arrive for the birth of baby Jesus. They have already started their journey and are on their way from across the living room. As of today the branches of our nature table tree host three stars and more are coming as the Advent progresses. This year we decided to have a Christmas tree because Marta and Liliana insisted on it, only it is not a real one. Warren and I are a bit sensitive to Christmas tree farming, but also we go away half way through the season meaning that we won't enjoy it for long. Maybe next year we'll have a real one. The fact that the tree is not real didn't diminish Marta and Liliana's excitement one bit. They were eager helpers in decorating it. Marta wanted to put a string of popcorn on it (as she had seen at a friend's place) and got busy with it. All the decorations are made of paper. Yes, I've been folding again and soon will show you what I have prepared for this year Advent Fair Fundraiser at Warren's work. This is a jolly Season, we love it!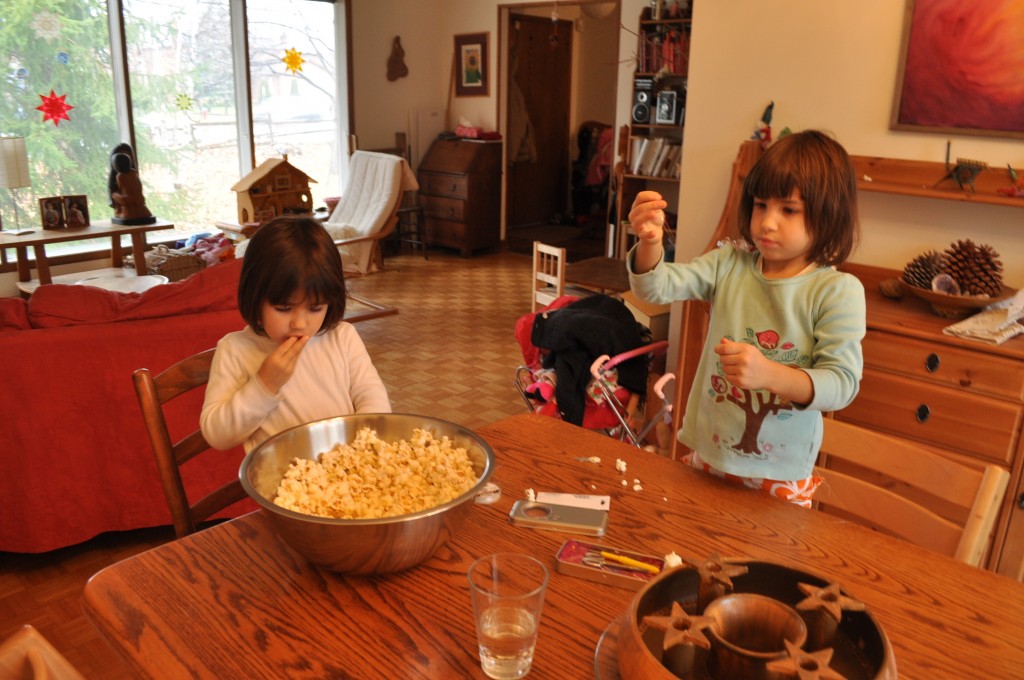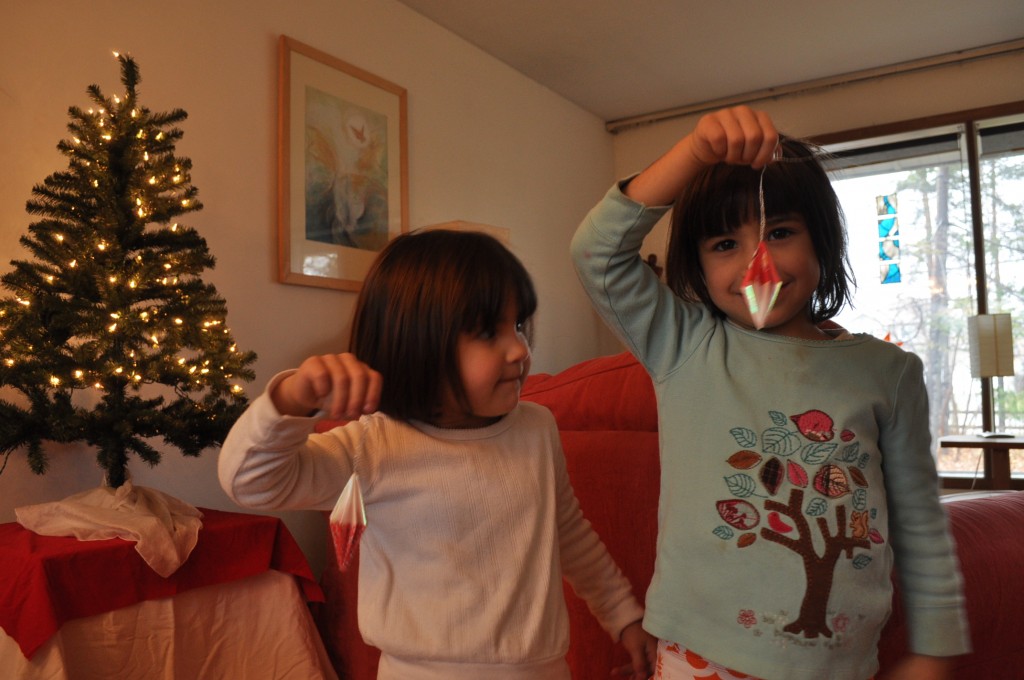 O fim de semana passado foi super cheio. Essa éopca do ano é cheia de eventos, festas ou apenas amigos querendo estar juntos. Sábado Marta teve a celebração do Advento na escola, onde cada criança acende uma vela após caminhar numa espiral feita de galhos de pinheiros. No Domingo, o primeiro do Advento, nós fomos a uma festa deliciosa na casa de amigos. No meio de todos esses acontecimentos nós ainda achamos tempo para colocar a nossa casa no espírito natalino. A nossa mesa da natureza agora abriga o estábulo e os animais que esperam calmamente pela chagada de Maria, José e o burrinho para o nascimento do menino Jesus. Eles já partiram e estão a caminho do outro lado da sala. Hoje os galhos da nossa árvore da naturza abrigam três estrelinhas, e mais estão a cominho até o dia de Natal. Esse ano nós resolvemos colocar uma árvore de Natal porque Marta e Liliana insistiram, mas essa não é de verdade. Warren e eu somos sensíveis as fazendas de arvore de natal, mas também viajaremos no meio da estação, e não poderemos curtir tanto. Talvez ano que vem tenhamos uma árvore de verdade. Mas o fato da árvore ser artificial não diminiu em nada a excitação das meninas. As duas ajudaram com a decoração e a Marta quis colocar um cordão de pipocas que ela viu na casa de uma amiga. Todos os enfeites são feitos de papel. Sim, estou fazendo origami de novo e logo mostrarei a minha produção para a feira de arrecadação de fundos do trabalho do Warren. Essa época do ano é uma alegria, adoramos!