Last week we started with our Summer projects. I've always wanted to do "papier mâché" with the girls and thought they are now at a good age to enjoy it. I just didn't remember how messy it can get! I decided to go the easier route and dip strips of teared paper in flour paste and place over a form to create a shape. We used balloons, a bowl and a glass as forms. Marta and Liliana really enjoyed tearing the paper but lost a bit of the steam when it came to cover the balloons with the mixture. It actually proved to be a bit challenging even for me as the balloon kept tipping with the weight of the wet paper. I most definitely should have done a test run on my own beforehand. After the shapes dried I painted them with some left over wall paint and made them ready for the girls to decorate. They love painting. That was by far the most successful part of the project. It is still work in progress and more pictures will follow once they finish.
If you're interested in trying your hand at "papier mâché" I used 2 cups of flour, 2 cups of water and a teaspoon of salt for the paste.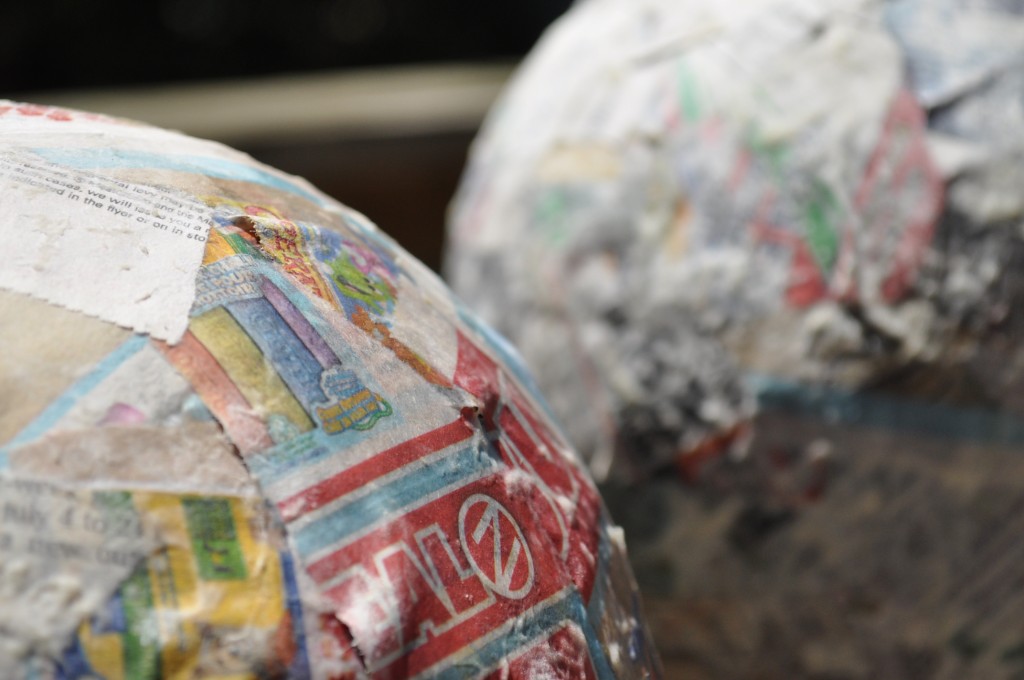 Semana passada nós começamos com os projetos de verão. Eu sempre quis fazer "papier mâché" com as meninas, e acho que agora elas estão numa idade boa para curtir esse tipo de atividade. Eu só não me lembrava da lambança que faz! Eu decidi pelo método mais fácil: cortar jornal em tiras, molhar cada tira na pasta de farinha e água e colocar sobre o molde para criar uma forma. Nós usamos balões, tigela e copo como moldes. Marta e Liliana adoraram rasgar o jornal em tiras mas perderam um pouco do gás na hora de cobrir o balão com a mistura de papel, farinha e água. É verdade que foi difícila até para mim porque o balão não parava quieto e desequilibrava com o peso do papel molhado. Eu bem que deveria ter testado sozinha antes. Depois que as formas secaram eu as pintei com uma sobra de tinta de parede como base para as meninas decorarem. Elas amam pintar. E essa foi a parte do projeto mais bem sucedida. A fase da pintura ainda não está acabada e mais fotos virão uma vez que o projeto esteja concluído.
Caso esteja interessada em tentar fazer "papier mâché" eu usei dois copos de farinha, 2 copos de água e uma colher de chá de sal para a pasta.