St. Michael and the dragon
Michaelmas is a Fall festival in which we reach inside ourselves to find strength and courage to go through the days that are growing darker as Winter approaches.  On the spiritual level the imagination of The Archangel Michael taming the dragon is a powerful one that also  inspires us to overcome the forces of darkness that live inside each of us.  Michaelmas is not just one day, but its quality continues until the end of the month. On Friday, at bed time, we told Marta and Liliana the story of St. Michael and the dragon for the first time and on Saturday we celebrated Michaelmas by baking bread. Warren, the girls and a friend baked swords, shields and even St. Michael.
Also on Saturday was one of Marta's friends birthday party. We carried on with the Michaelmas theme,  and gave him a copy Dragon Baked Bread and a dragon finger puppet to go with it.  I made the finger puppet using scraps of wool and a pattern I found don the internet called Fairy Tales at Your Fingertips by Melissa Mall.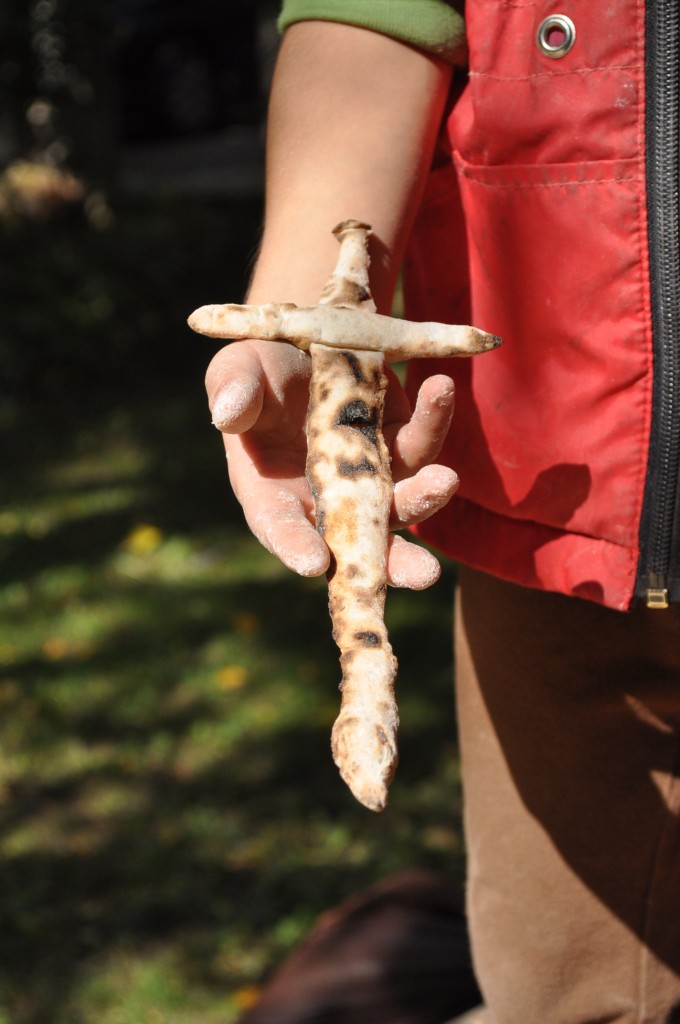 O festival de São Miguel Arcanjo é um festival da estação do outono (no hemisfério norte) no qual nós olhamos para dentro de nós mesmos para encontrar força e coragem para enfrentar os dias que ficam cada vez mais longos com a aproximação do inverno. No plano espiritual a imaginação do Arcanjo Miguel domando o dragão também nos inspira a vencer as forças da escuridão que moram em cada um de nós.  Apesar do dia de São Migule Arcanjo ser 29 de setembro, a qualidade do festival se estende até o final de outubro. Na sexta feira, na hora de dormir, nós contamos a história de São Miguel e o dragão para a Marta e Liliana pela primeira vez, e no sábado nós celebramos fazendo pão. Warren, as meninas e um amigo fizeram espadas, escudos e até S. Miguel!
Também no sábado foi a festa de aniversário de um dos amigos da Marta. Aproveitando o tema do festival de são Migel nós demos de presente  o livro Dragon Baked Bread e uma marionete de dedo de dragão para acompanhar a história. Eu fiz o bonequinho usando restos de lã e uma receita que achei na Internet chamada Fairy Tales at Your Fingertips por Melissa Mall.