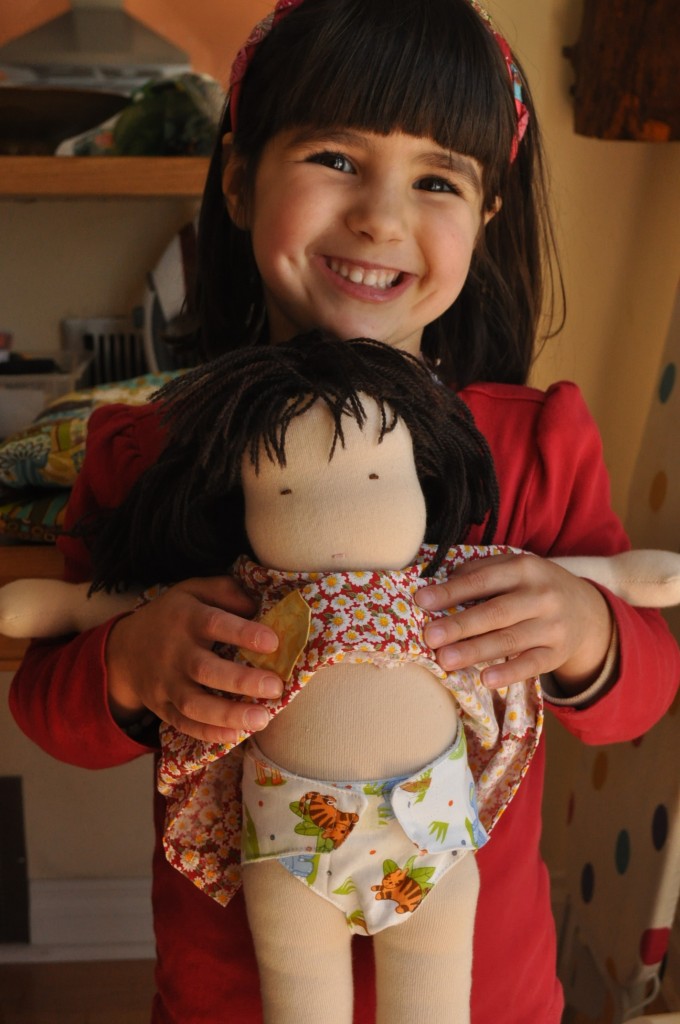 Ever since I made the dolls for Marta and Liliana they have been asking me to make nappies (diapers) for the them. So yesterday I rolled up my sleeves and got to it. Drafting the pattern and sewing them up was very straight forward but I got stuck deciding whether to use snaps or velcro to secure the nappies on the dolls. I'm not a great fan of velcro though I agree it is very practical and can even mean independence for individuals with impaired abilities. But when it comes to children wear and toys I think velcro robs children of the opportunity to develop some fine motor skills, patience and perseverance that buttons, laces and old fashion shoe buckles do offer.  For this reason I have only used buttons on the dolls clothes so far.  But for the nappies… I did go with velcro. And that was because I made the nappies to be interchangeable between the dolls and they have different waist sizes. And truth be said, the velcro made the nappies look and feel feel more like the nappies my girls know, with that sticker/velcroish fastening. The two girls are now over the moon with the ability to change their babies' nappies, because you can't be a real mama if you don't have nappies to change, can you?
=================*****=================
Desde que eu fiz as bonecas para a marta e a Liliana que elas vêm me pedindo para fazer fraldas para as suas bonecas. Então ontem eu arregacei as mangas e mandei brasa. Desenhar o molde e costurar foi fácil, mas aí fiquei empacada com a decisão de usar botões de pressão eu velcro para fechar a fralda. Eu não sou muito fã de velcro apesar de achar prático e até útil, principalmente para pessoas cujas habilidades físicas são limitadas. Mas para roupas de crianças e brinquedos eu acho que o velcro rouba da criança a oportunidade de desenvolver o controle motor fino, paciência e perseverança que o botão, fivela de sapato e cadarços oferecem. Por essa razão eu  até hoje só usei botões nas roupas de boneca.  Mas para as fraldas…  teve que ser velcro. Eu fiz as fraldas para serem usadas pelas duas bonecas, mas elas têm cinturas diferentes. E verdade seja dita, o velcro faz com que as fraldas sejam mais parecidas com as fraldas que as meninas conhecem, que fecham com um mixto de adesivo e velcro. Marta e Liliana estão todas contentes de poderem trocar as fraldas das suas filhas. Claro que você não pode er uma mamãe de verdade se não troca fraldas, não é mesmo?