As I write this post I witness the rather majestic Maple tree on our driveway being cut down. Tomorrow it will be the one in the back of the house. They are both huge, mature trees and beautiful beyond measure. It is very sad to see them go. They do pose a threat to our house though and to our neighbour's too. In fact, a huge branch fell from the one at the back soon after we moved in. Luckily it wasn't a branch that hung over the house. Our neighbour filed a complaint with the city council after a tornado touched down a very few miles from here in late August. After an inspection from tree experts they demanded our landlord take them down. It took him a month to decide who was going to do the job and just yesterday he finally let us know that they would start taking the trees down today. On the bright side a few friends will get some nice fire wood for next year and Warren will have a good chunky piece of Maple wood for a future sculpture project. We are not tree  huggers, but after supper last night we all went outside and said a little farewell blessing to the trees, sang them a song,  hugged them and thanked them for their beauty and bounty.
The Maple on the driveway: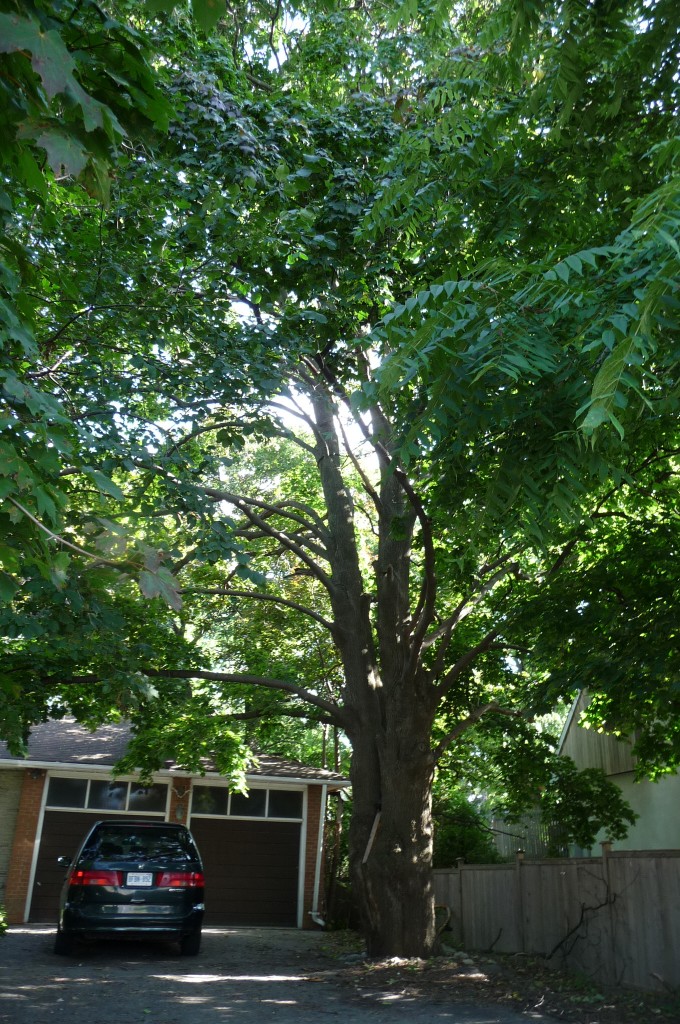 The Maple at the back: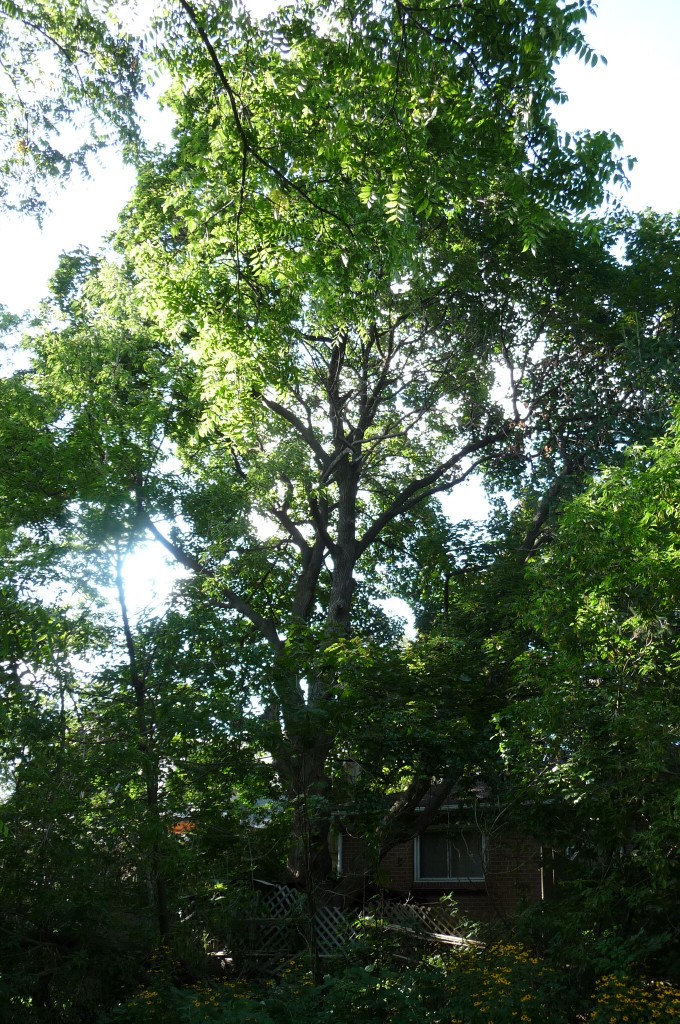 Enquanto escrevo esse post, lá fora, a majestosa árvore de Maple na frente da nossa casa está sendo cortada. Amanhã será a que fica  no jardim de traz. Ambas são árvores adultas e enormes e tão lindas que nem dá para descrever. Morro de pena de vê-las partir. No entanto, elas são uma grande ameaça para a nossa casa e para a casa do vizinho também. De fato, um galho bem grande caiu da árvore de traz logo depois que a gente se mudou para essa casa.  Por sorte não era um galho que ficava em cima do telhado. O vizinho fez uma reclamação com a prefeitura após um tornado que passou aqui pertinho no final de agosto e depois de uma inspeção eles mandaram o proprietário da casa onde moramos derrubá-las. Depois de um mês para decidir quem faria o serviço,  ontem ele finalmente entrou em contato e nos avisou que o trabalho começaria hoje. Olhando de uma perspectiva mais positiva alguns de nossos amigos vão ganhar uma generosa quantia de madeira para usar nas lareiras e o Warren vai escolher um bom pedaço da madeira de Maple para uma futura escultura. Não somos "abraçadores de árvores", mas ontem depois do jantar fomos lá para fora  dar adeus as árvores, cantamos, abraçamos-nas e as agradecemos por sua beleza e generosidade.