A recipe for hot cross buns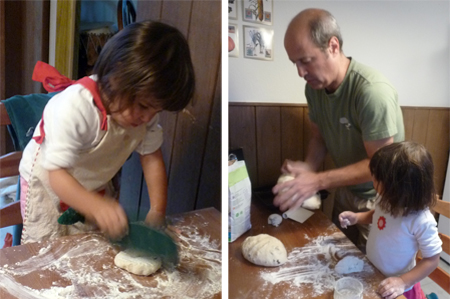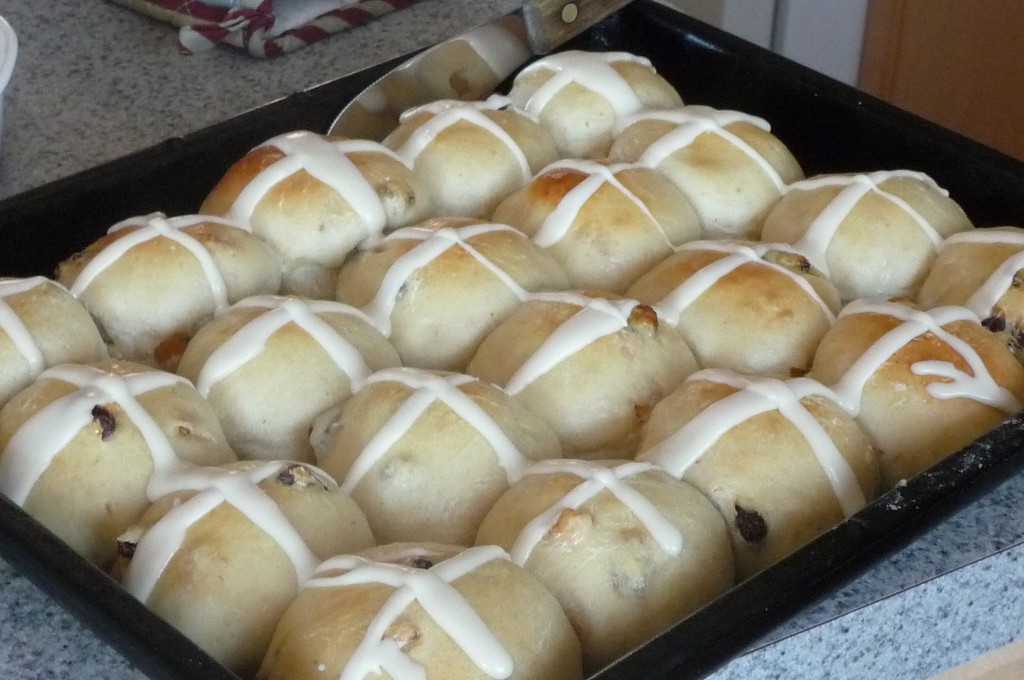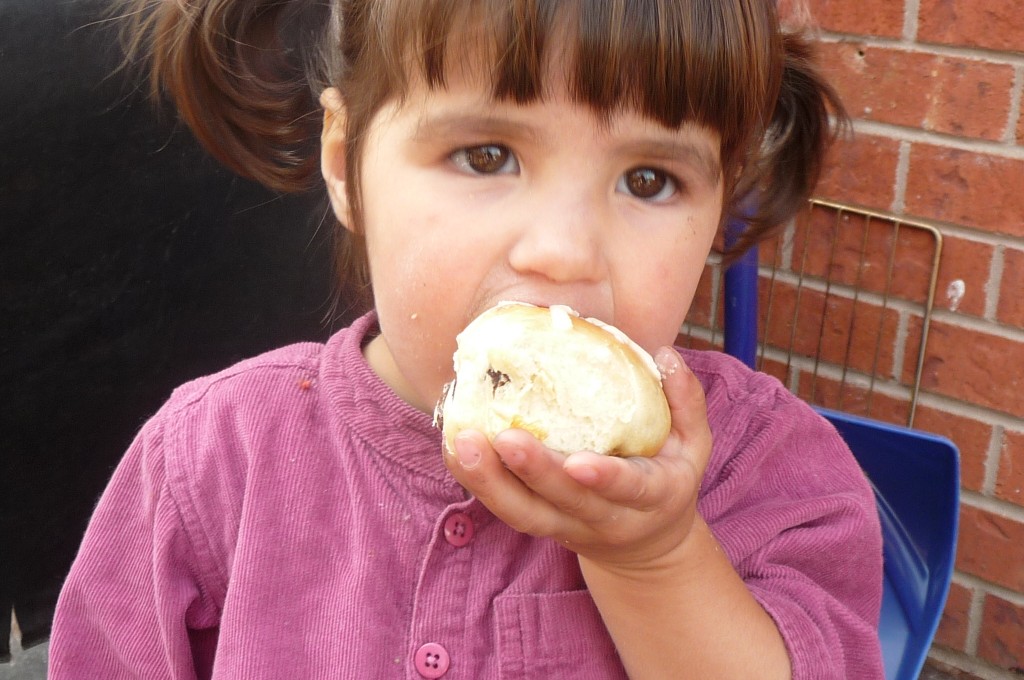 This morning Warren, Marta and Liliana made the most delicious hot cross buns for a Easter Monday lunch at a friend's place. I thought I'd share with you this recipe from Warren's book Baking Bread With Children. I know, it is a bit late for this Easter but they are good anytime, really. Don't miss out on the fun that it is to bake bread, with or without children!
Enjoy. We'd love to know how yours turned out!
Ingredients for 12Â  buns
Metric/imperial
plain flour 400 g/14oz (3 ½ cups)
warm milk 250 ml/8 fl oz (1 cup)
natural sugar 30 ml/2 Tbsp
softened butter 30 ml/2 Tbsp
sea salt 5 ml/1 tsp
dried yeast (not 'quick-acting') 10ml/2 tsp
egg 1
cinnamon 2.5 ml/ ½ tsp
nutmeg 2.5 ml /½ tsp
currants 60 ml / 2 fl oz (¼ cup)
candied orange peel 30 ml/2 Tbsp
Glaze
egg yolk 1
water 15 ml/1 Tbsp
Icing for cross
confectioners' (icing) sugar 60 ml/2 fl oz (¼ cup)
vanilla extract 2.5 ml/½ tsp
milk 7.5 ml/1 ½ tsp
1. Dissolve sugar and yeast in warm milk. Leave 15 min until frothy.
2. Add salt, spices, egg, peel, currants and butter.
3. Add flour and knead thoroughly. Return to oiled bowl, cover and allow to rise for 1 ½ hours or until doubled.
4. Press down the dough. Then shape into 12 small buns. Put these on a greased tray and let rise for ½  an hour or until doubled.
5. Brush each bun with egg yoke glaze for shiny brown crust.
6. Bake at 200C/400F/gas mark 6 for 12 min until golden brown.
7. In a small dish, stir confectioner's sugar with vanilla. Add milk slowly, just enough to make the icing flow.
8. Cool buns and paint a cross with icing by letting it drizzle from a spoon.
9. Serve warm with milk or coffee.
================= **** ====================
Hoje de manhã o Warren, a Marta e a Liliana fizeram deliciosos pãezinhos de Páscoa para um almoço nas casa de amigos. Eu achei que deveria compartilhar com vocês essa receita do livro que o Warren escreveu, Baking Bread With Children. Eu sei, está um pouquinho tarde para essa Páscoa mas esses pãezinhos são bons há qualquer hora. Juro. Não perca a farra que é fazer pão, com ou sem crianças!
Aproveite! Nós adoraríamos saber como ficaram os seus.
Ingredientes para 12 pãezinhos
3 ½ xícaras de farinha
1 xícara de leite
2 colheres de sopa de açúcar
2 colheres de sopa de manteiga em temperatura ambiente
1 colher de chá de sal marinho
2 colheres de chá de fermento seco
1 ovo
½ colher de chá de canela
½ colher de chá de nóz moscada
¼ xícara de passas
2 colheres de sopa de casca de laranja cristalizada
Para a glace
1 gema de ovo
1 colher de sopa de água
Glace para a cruz
¼ xícara de açúcar de confeiteiro
½ colher de chá de extrato de baunilha
1½ colher de chá de leite
1.Dissolver o açúcar e o fermento no leite morno. Deixe por 15 minutos até ficar com bolhas.
2. Adicione o sal, as especiarias, o ovo, a casca de laranja cristalizada, passas e a manteiga.
3. Adicione a farinha e sove bem a massa. Bote numa tigela untada com óleo, cubra e deixe a massa crescer por 1½ horas ou até o volume dobrar.
4. Sove a massa novamente. Separe-a em 12 pedaços, forme o pãezinhos, coloque-os em uma assadeira untada e deixe crescer por mais ½ hora ou até dobrarem de tamanho.
5. Pincele cada pãozinho com a gema de ovo para uma casca dourada.
6. Asse a 200 graus Celsius por 12 minutos ou até dourar.
7. Numa pequena tigela misture o açúcar de condeiteiro com a baunilha. Adicione o leite ben devagar e só o suficiente para fazer a glace fluida.
8. Depois que os pãezinhos esfriarem um pouco e faça a cruz com a glace deixando que ela escorra de uma colher.
9. Sirva morno com leite ou café.