We are here bracing ourselves expecting the snow storm that is in the forecast for this afternoon/evening. If it really manifests as predicted we should be getting strong winds and 30 cm of snow overnight! I'm already planning a few activities for the girls as it will most likely be a no school day.
Since we are on the Winter theme I thought I'd share two pieces of ice art we have been playing with. We finally made ice lanterns again this year and they sit outside right where we can see them from our dinner table. So pretty.
The icicle sculptures are the creation of Marta, Liliana and Helianne. Helianne is our surrogate grandma that comes on Fridays and look after Marta and Liliana for a couple of hours while I get to do what I need without children. Last week when I came back from shopping for Marta's birthday party  I found those great pieces on our picnic table. I love surprises! Next we're planning icicle stars. Maybe this weekend.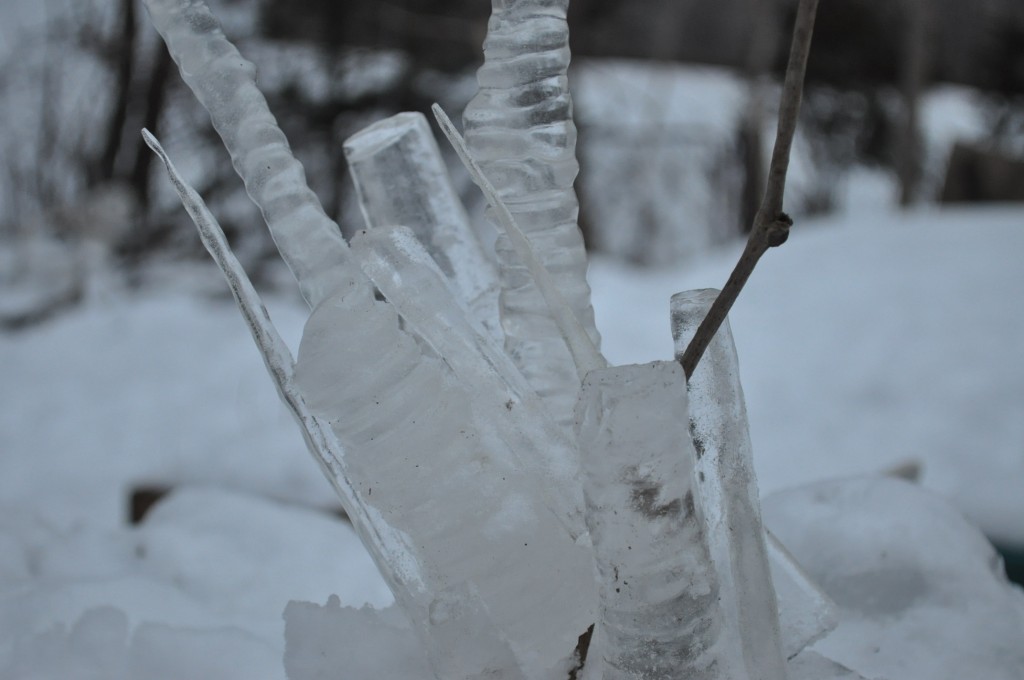 Estamos aqui na maior expectativa da tempestade de neve que está prevista para hoje a tarde. Se vier como a previsão do tempo disse teremos ventos fortes e 30 centímetros de neve durante a noite. Já estou até planejando algumas atividades com as meninas porque certamente a escola estaré fechada.
Uma vez que estou no tema inverno, aproveito para mostrar duas atividade de inverno que temos feito esse dias. Nós finalmente fizemos nossa lanternas de gelo, as primeiras desse inverno. Elas estão lá fora estratégicamente posicionadas de modo que podemos vê-las da nossa mesa de jantar.
As esculturas de gelo foram criação da Marta, Liliana e Helianne. Helianne é a nossa vó postiça que fica com as meninas por alguma horas nas sextas feiras para que eu possa fazer o que precisso sem crianças. Semana passada, quando eu voltei das compras achei essas belas esculturas na nossa mesa de piquenique. Eu adoro surpesas! A próxima serão estrelas feitas de gelo, talvez nesse fim de semana.