Hello again! I so not planned this blog break. My apologies to you that came back for new posts only to find the pretty tulips again and again… at least they are nice to look at! I slipped off my routine a while ago and didn't quite managed to get back to it still, and it is true I have been busy. Busy making things with the children, for the children, for the hubby, for friends, for myself. Busy reading, knitting, sewing, cooking and watching the garden grow. In my absence from this space we also had a visit from the grandparents and lots of activities away from home. I missed both blogging and reading and commenting on my favourite blogs. I'm back and hopeful that I'll find my blog writing/reading rhythm again.
Here are some pictures of one fun project I did with the girls just before my parents came. We used  paper plates, markers, paper crepe and wooden chopsticks to make masks. I had all the materials at home and the inspiration came to me in a flash one day the girls really needed an activity to focus their energy on and stop getting at each other. I was so grateful that the idea came to me so quickly and that it was very easily achievable too. We made two designs each, enjoyed each moment of the creative process, had our moods transformed and enjoyed a lovely afternoon thereafter!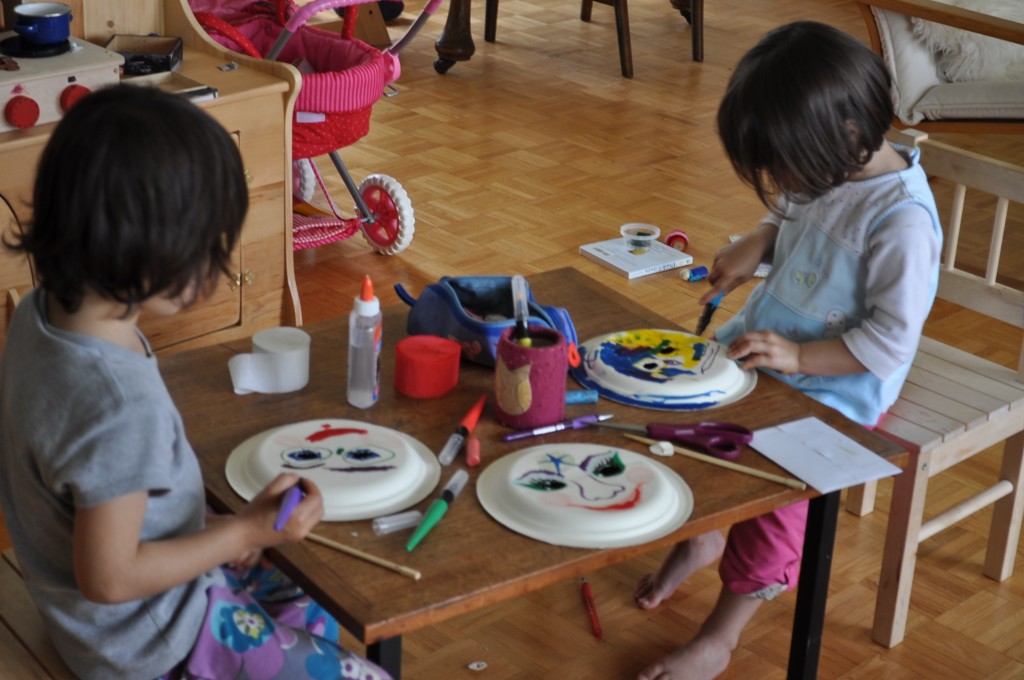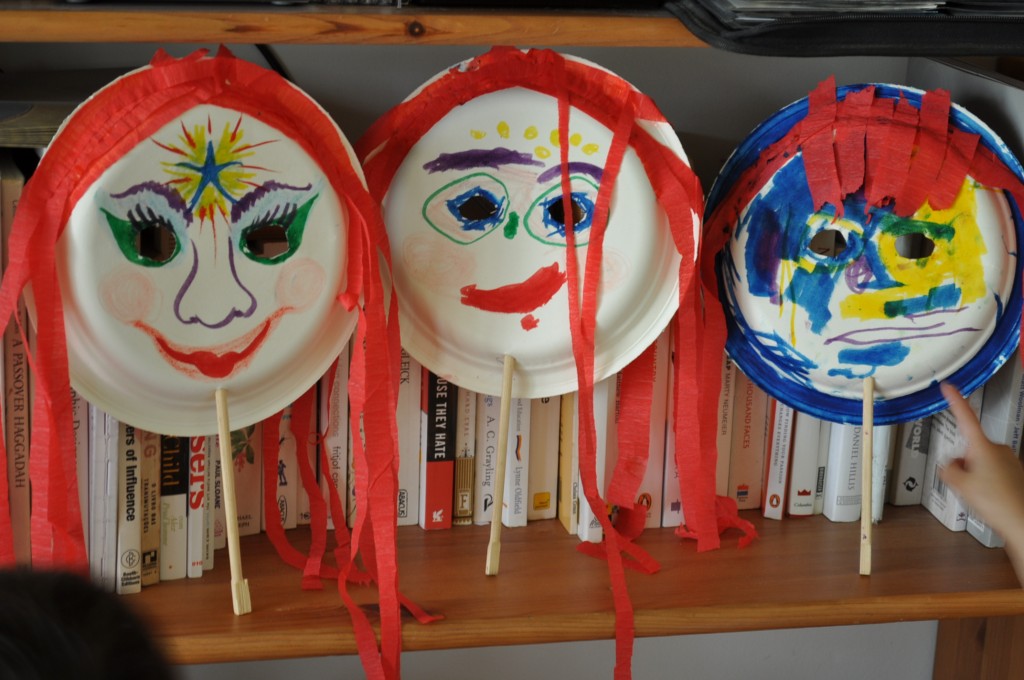 Olá de novo! Esse recesso bloguístico não foi nada planejado. Perdão aqueles que retornaram a procura de posts novos apenas para se depararem com as fotos da lindas tulipas… pelo menos elas são bonitas de se ver! Há um tempinho atrás eu saí da minha rotina e ainda não consegui retomá-la totalmente. É verdade também que tenho andado ocupada. Ocupada fazendo coisas com as crianças, para as crianças, para o maridão, para amigos, e para mim. Ocupada fazendo tricô, costurando, cozinhando, lendo e vendo o as flores crescerem. Na minha ausência desse espaço também recebemos a visita dos avós e passeamos um bocado. Eu senti falta tanto de escrever no blog quanto de ler e comentat nos meus blogs favoritos. Agora eu estou de volta e com esperanças de achar o meu rítimo de novo.
Aqui vão alguma fotos de um projeto divertido que fiz com as meninas um pouco ante de os meus pais chegarem. Nós usamos pratos de papel, papel crepon, canetinha de feltro, e espetinho de churrasco para fazer máscaras. Eu tinha todos os materiais em casa e a inspiração me veio como um raio num dia que as meninas realmente precisavam de um atividade para concentrar suas energias e parar de implicar uma com a outra. Tão agrdecida eu fiquei da idéia ter vindo não só rapidamente mas também ter sido tão fácil de executar. Cada uma de nós fez duas máscaras, curtimos cada momento do processo criativo, transformamos os humores e curtimos uma ótimo resto de tarde!