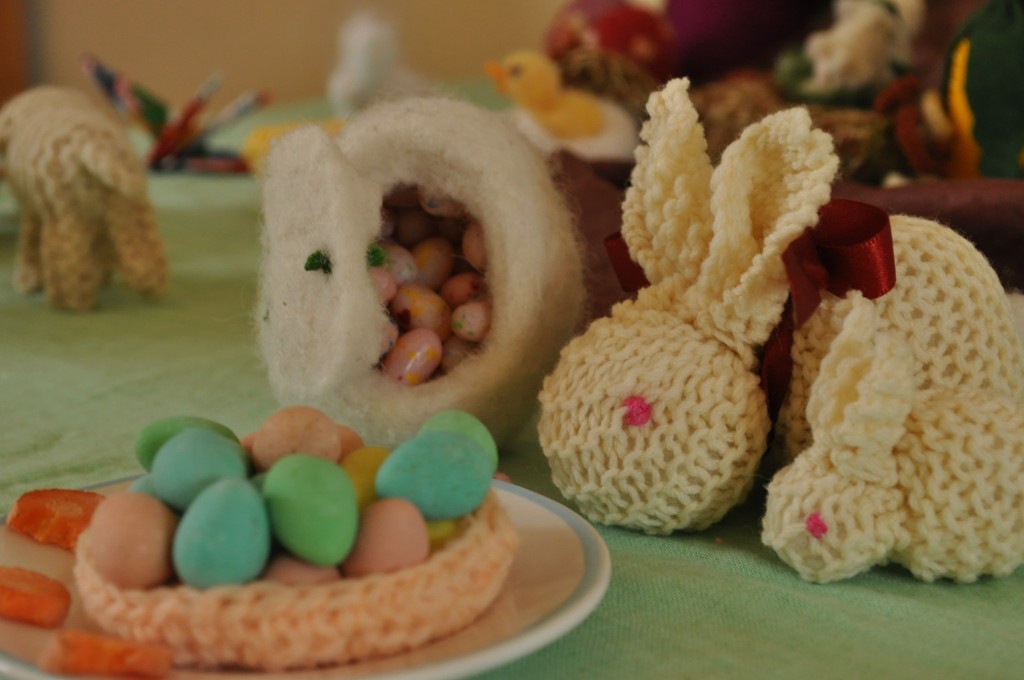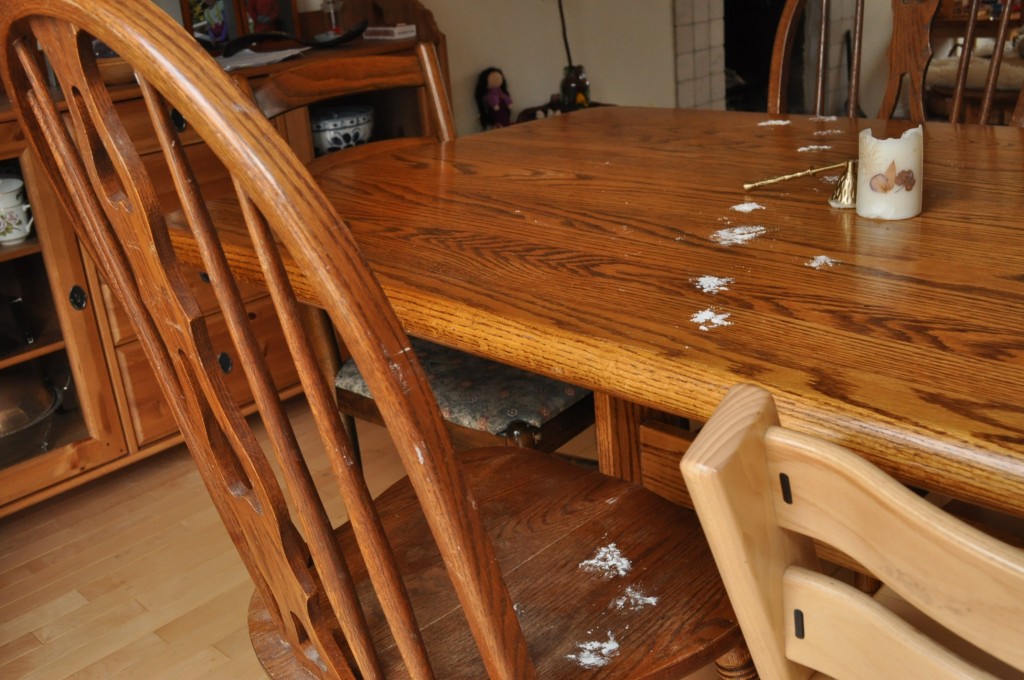 Because of our trip to Brazil I didn't have much time to prepare for Easter in advance. So everything I did this year was pretty much last minute. I started on the knitted bunnies on Friday evening and finished them Saturday night. Knitting was easy-peasy, but shaping the bunnies was a bit more challenging for me. I wanted them to be standing up, but they only wanted to graze… so grazing they stayed. I used this tutorial for Just Sew and So.
On Saturday I just had to felt a hollow egg. This project came out of the blue and was completely improvised. First I had imagined a hanging ornament on the likes of this one.  Then I changed my mind and thought the egg should open horizontally to  reveal a surprise, kind of like this. I ended up opening the front of the egg with a crafts knife as I had intended originally but  sewed the opening back on the egg "with hinges", like a door.  I wanted  to put a felted chick inside but as I ran out of time I ended up filling it up with jelly beans.
On Easter Sunday we woke up with squeals of the delight as Marta and Liliana found their treats on our nature table. As always, the Easter Bunny left its messy prints all over the table and the girls loved it. On Sunday we also dyed some eggs just for the fun of it and to include the girls in an activity that is Easter related. I used Martha's Stewart's instructions on how to make marbleized eggs which were very easy to follow.
=================== ***** =====================
Por causa da nossa viagem ao Brasil, eu não tive muito tempo para preparar a nossa Páscoa. Tudo o que eu fiz esse ano acabou sendo de última hora. Eu comecei a tricotar os coelhinhos na sexta feira a noite e terminei no sabado também a noite. Tricotar foi super fácil, mas dar a forma ao coelhinho já foi bem mais complicado. Eu queria que eles tivessem ficado de pé, mas eles só quiseram ficar em posição de comer grama. Eu usei o passo-a-passo do Just Sew and So.
No sábado eu decid que tinha que fazer um ovo de feltro oco. Esse projeto me veio do nada e foi completamente improvisado. Primeiro eu imaginei um enfeite de pendurar assim como esse. Depois mudei de idéia e achei que o ovo deveria abrir horizontalmente e revelar uma surpresa, tipo esse aqui. Eu acabei abrindo a frente do ovo como na minha primeira idéia, mas costurei a tampa de volta no ovo com "dobradiças", como uma porta. Eu queria ter colocado um pintinho também de feltro, mas como acabou o meu tempo eu coloquei Jelly Beans mesmo.
No domingo de Páscoa nos acordamos com as exclamações de alegria da marta e Liliana quando acharam as surpresas que o coelhinho da Páscoa tinha deixado. Como sempre, o danado do coelhinho deixou uma boa bagunça na mesa com as suas patinhas sujas. Mas as meninas adoram! No domingo, para incluir as meninas em alguma atividade relacionada com a Páscoa,  nós também tingimos ovos usando corante alimentar. Eu usei as intruções da Martha Stewart de como fazer ovos mamorizados, bem fácil.