Here he is! The finished Waldorf doll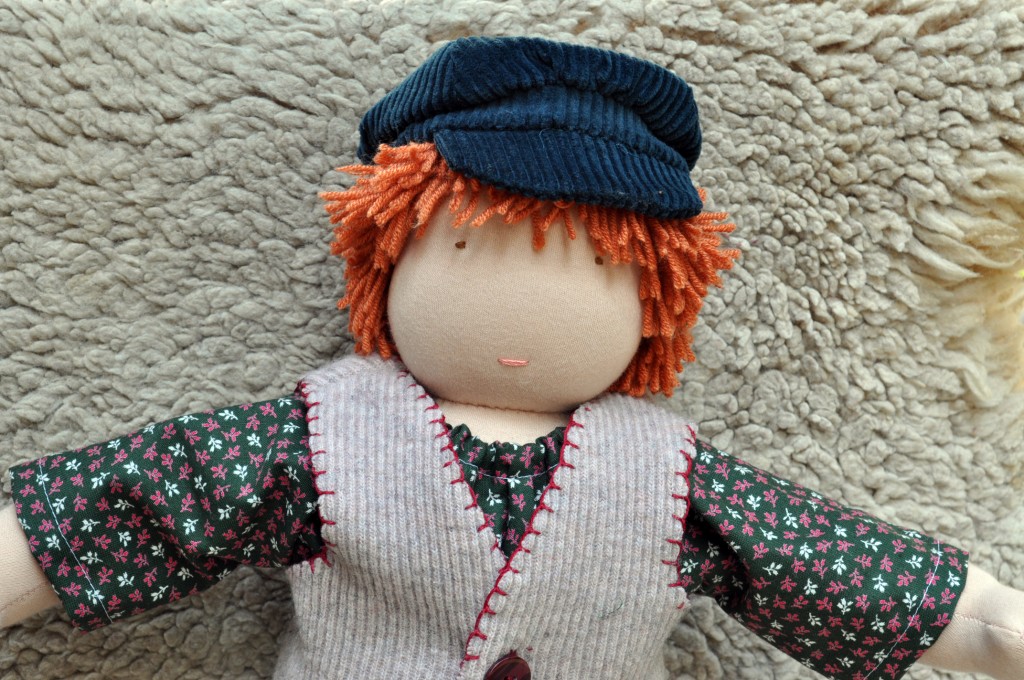 It took me long to post, but here are the pictures of the finished Waldorf doll I made as a gift to Marta's kindergarten classroom.  I presented him to the class last week at the end of our celebration on the last day of school. He was very warmly received by the teachers, parents and the children alike who couldn't hold back their "ooohs" and "aawhns".  It makes me happy to know he will be well loved in his new home!
I really love the way he turned out with big cheeks. In the sequence you can see him in his complete outfit as well as with just the trousers and blouse. I also posted a picture of him in his birthday suit so you can see what a substantial belly he has which is a pleasure to hold and squeeze! He is a 18″ doll and in the last picture you can see his size in relation to Liliana.
Levou um tempinho para eu postar, mas aqui estão as fotos do boneco Waldorf que eu fiz de presente para a sala de aula do jardim da infãncia da Marta. Eu o apresentei para a classe no final da celebração no último dia de aula. Ele foi muito bem recebido pelas professora, pais e crianças que não contiveram os "aaaah!" e "oooooh". Me faz muito feliz saber que ele será muito bem amado na sua nova casa.
Eu amei que ele saiu bochechudo. El tem 45 cm e na ultima foto você pode ver o tamanho dele em relação à Liliana.