We're just back from a lovely long weekend at a friend's cottage. The long lazy days, children playing freely, lots of swimming in the lake, late lunches… it felt like summer! Hang on… it is the summer! But this was just a preview. We're back at home now and will stay put until the end of July. Then in August we'll have more cottage days!
While away we also went to visit other friends who own a yurt camp. It was a quite a rainy afternoon but we had a great time exploring the beautiful site and hiding from the heavy downpours in the yurt. I loved being in that round and cozy space, and so did the children. But what I enjoyed the most was the river that cuts right through the property. We went knee deep into it and had the sun peeked out I'd be bathing in it, for sure!  Our friends Raffi and Tanya are also very talented cafts people. He makes the most amazing brooms (and builds and paints the yurts) and she does bookbinding. If you ever find yourself in southeast Ontario,  it's worth stopping at their shop and workshop to see the beautiful things they make. Their shop is called "Radiance of the Ordinary". Isn't that an amazing name? They are on Burridge road,  just off Westport rd. Click here for a map.  To see more pictures of their craft or of the yurt camp site click here.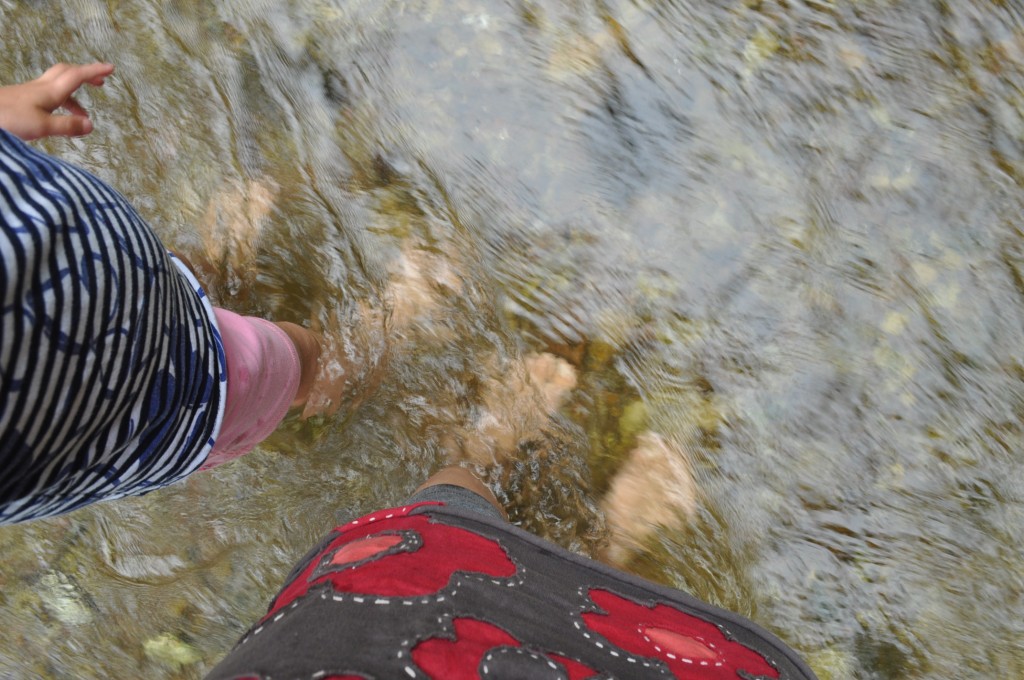 Acabamos de voltar de um fim de semana prolongado no campo. Os dias longos e preguiçosos, crianças brincando livremente, muitos mergulhos no lago, almoços tarde… parece até o verão! Peraí…. é verão! Mas isso foi só uma prévia. Jã estamos em casa e ficaremos aqui até o fim de julho. Em agosto teremos mais casa de campo!
Enquanto viajando também fomos visitar outros amigos que alugam yurt por temporada. Foi numa tarde chuvosa mas que não nos impediu de explorar o lindo local e quando a chuva apertou corremos para nos abrigar no yurt. Eu adorei ficar naquela construção redonda e aconchegante, mas o que eu mais gostei foi do rio que corta a propiredade. A gente entrou na água até o joelho, e se o sol tivesse dado o ar da graça eu teria mergulhado! Nossos amigos Raffi e tanya também são artesãos muito talentosos. Ele faz as vassouras mais lindas que eu já vi (além de construir e pintar os yurts) e ela encardenação. Se algum dia você se encontrar no sudeste da província de Ontario vale a pena visitar a ofocina e loja deles chamada "Radiance of the Ordinary". Fica na estrada  Burridge road. Clique aqui para ver o mapa.  Para ver mais fotos do artesanato e dos yurts  clique  aqui.